From Wikipedia, the free encyclopedia
the protests were held in opposition to planned spending cuts to further education and an increase of the cap on tuition fees by the Conservative-Liberal Democrat coalition government. The proposed budget reduction followed a review into higher education funding in England conducted by Lord Browne. Student groups said that the intended cuts to education were excessive and broke campaign promises made by politicians, amounting to "attempts to force society to pay for a crisis it didn't cause."
In one incident, a motorcade carrying Their Royal Highnesses Charles, Prince of Wales and Camilla, Duchess of Cornwall, was attacked on Regent Street, which almost resulted in bodyguards drawing their weapons.
The Browne Review was subsequently published in October 2010, and contained the suggestion that the government should remove outright the existing cap of £3,290 on tuition fees. The government rejected this proposal, instead choosing to keep a cap but increased to £9,000.
10 November, 2010 - The focal point of the first demonstration involved a number of protesters occupying 30 Millbank in Westminster, that houses the headquarters of the Conservative Party
Political groups that sent contingents to take part included the Labour Party, Plaid Cymru, the Green Party, Socialist Workers Party, Socialist Party, Revolution, Young Communist League, Revolutionary Communist Group and Communist Students.
The Metropolitan Police were only expecting 20,000 demonstrators to turn out, well below the 50,000 figure most widely quoted in the press after the event, and did not expect any violence, so deployed only 225 officers to police the event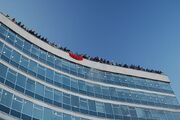 In the afternoon, as protesters passed the Houses of Parliament and moved on towards Tate Britain for the rally, several thousand, despite attempts by NUS organisers to stop them,[14] surrounded 30 Millbank, campaign headquarters of the Conservative Party. Forcing their way past the limited police presence,[23] approximately two hundred people broke in and occupied the building, whilst a thousand more cheered and supported them from outside.[5][24] These protesters lit placards on fire, and smashed windows before occupying and vandalising the reception area. Staff working in the building were subsequently evacuated by police around 1 pm.[5] Around 100 protesters proceeded to the roof of the building, chanting slogans including "Greece! France! Now here too"
Ad blocker interference detected!
Wikia is a free-to-use site that makes money from advertising. We have a modified experience for viewers using ad blockers

Wikia is not accessible if you've made further modifications. Remove the custom ad blocker rule(s) and the page will load as expected.