1st century B.C. - 1st century A.D.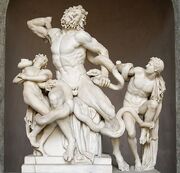 One of the sculptors who created "Laocoon and his sons", found in 1506.
Dating from "Helenistic" period of Greece, this is a reflection of the contradictions within the ancient slave society. 
Ad blocker interference detected!
Wikia is a free-to-use site that makes money from advertising. We have a modified experience for viewers using ad blockers

Wikia is not accessible if you've made further modifications. Remove the custom ad blocker rule(s) and the page will load as expected.