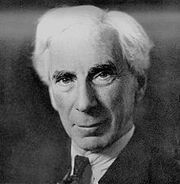 1872-1970
A reactionary British philosopher who called for destruction of the Soviet Union. 
His best works I consider to be:
1) Proposed Roads to Freedom: Socialism, Anarchism, and Syndicalism, 1918
2) "History of Western Philosophy", written around 1945.
If you want to know more about him, read his autobiography, 1969.
Ad blocker interference detected!
Wikia is a free-to-use site that makes money from advertising. We have a modified experience for viewers using ad blockers

Wikia is not accessible if you've made further modifications. Remove the custom ad blocker rule(s) and the page will load as expected.