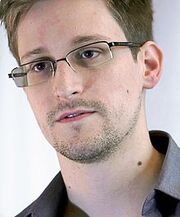 b. 1983
Bigraphical film: "Snowden" , by Oliver Stone, 2016
Snowden comes from a middle-class family: "His maternal grandfather, Edward J. Barrett

,

[9][10]

 was a 

rear admiral

 in the 

United States Coast Guard

 who became a senior official with the 

FBI

 and was at 

the Pentagon

 on September 11, 2001, when it was struck by 

an airliner

 

hijacked

 by 

al-Qaeda

 terrorists.

[11]

 Snowden's father, Lonnie Snowden, was also an officer in the Coast Guard,

[12]

 and his mother, Elizabeth B. Snowden, is chief deputy at the 

United States District Court for the District of Maryland

.

[13][14][15]

 His older sister, Jessica, was a lawyer at the 

Federal Judicial Center

 in Washington D.C. Snowden said that "in one way or another", his entire family has been employed by the federal government, and that he "expected to pursue the same path"

Snowden has been conservative in his political views. This can be seen in Oliver Stone's film "Snowden", when he meets his girlfriend and they discuss politics in front of the White House. Also, in Wikipedia: "

Snowden had been an active participant at the site's online forum

 from 2001 through May 2012, discussing a variety of topics under the pseudonym "TheTrueHOOHA".

[28]

 In a January 2009 entry, TheTrueHOOHA exhibited strong support for the United States' security state apparatus and said he believed leakers of classified information "should be shot in the balls"

Snowden's motivations for his actions appear to be the fact that he discovered that actions of the U.S. government were not democratic ("wake up and smell the coffee!"). Watch here .
Ad blocker interference detected!
Wikia is a free-to-use site that makes money from advertising. We have a modified experience for viewers using ad blockers

Wikia is not accessible if you've made further modifications. Remove the custom ad blocker rule(s) and the page will load as expected.