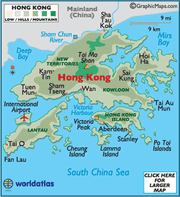 Hong Kong became a 
colony
 of the 
British Empire
 after Qing China's defeat in the 
First Opium War
 (1839–42). 
Originally confined to 
Hong Kong Island
, the colony's boundaries were extended first to the 
Kowloon Peninsula
 in 1860 and then, with a 99-year lease beginning in 1898, the 
New Territories
. 
Population over 7 million, high density of population per area
Under the principle of "one country, two systems",[16][17] Hong Kong maintains a separate political system from China. Except in military defence and foreign affairs, Hong Kong maintains its independent executive, legislative and judiciary powers.[18] In addition, Hong Kong continues to directly develop relations with foreign states and international organisations in a broad range of non-diplomatic fields.[19]
In the 1950s, Hong Kong became the first of the Four Asian Tiger economies under rapid industrialisation driven by textile exports, manufacturing industries and re-exports of goods to China... the population grew, with labour costs remaining low...
Ad blocker interference detected!
Wikia is a free-to-use site that makes money from advertising. We have a modified experience for viewers using ad blockers

Wikia is not accessible if you've made further modifications. Remove the custom ad blocker rule(s) and the page will load as expected.