Theft covered by the government is so gross in Tunisia that in one secret American cable released by Wikileaks we hear an American diplomat saying that song "This land is your land, this land is my land" has an evil interpretation in Tunisia. For example: one Tunisian official saw a French yacht in a port. He stole it, painted it different color, and returned to the same part. The French businessman got the yacht back only after making a big scandal through his embassy, in 2008 (
read here
 ). In other words: all that is worth having is stolen in Tunisia by the families close to the government. According to 
"Newsweek"
 , after the coup of 2011, Ben Ali and his "family" ran a "mafia state" in Tunisia.
Uprising in Tunisia, which led to "the Arab spring" (2010-11), was sparked by self-immolation of Mohamed Bouazizi in Sidi Bouzid. 
El General music video before "the Arab spring"
Long-term causes of uprising in Tunisia, 2010, Wikipedia
"Al-Jazeera" 
writes
 on the social classes participating in the rebellion (2011): "The current uprising is of the unemployed university graduate youth, and it is marked by its ability to combine the social with the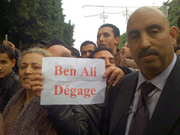 Also involved in the movement were the middle classes, specifically the lawyers which the government literally beat: "On 6 January, 95% of Tunisia's 8,000 lawyers went on strike, according to the chairman of the national bar association. He said "The strike carries a clear message that we do not accept unjustified attacks on lawyers. We want to strongly protest against the beating of lawyers in the past few days."[57] It was reported on the following day that teachers had also joined the strike" (Wikipedia).
The protests and riots did not result in a revolution (in 2011), i.e. an overthrow of
the old, corrupt system of government and capitalist institutions, but only in a re-shuffle of the existing government. The same individuals who ruled the country in the Ben-Ali era (1987-2011) remained in power. 
More specifically, Wikipedia writes: "The Tunisian military brought about the 14 Jan. ousting of President Zine El Abidine Ben Ali when they chased off his security forces. After Ben Ali was forced into exile, Army Commander Rashid Ammar pledged to 'protect the revolution'." As we see, the same ruling clique remained in power. 
Al-Jazeera 
writes
 : "The root causes of this revolution are still not resolved".
The old state system, e.g. police, prisons, have remained the same, nothing has changed. Watch this 2015 video about police treatement of its citizens in Tunisia. 
Ad blocker interference detected!
Wikia is a free-to-use site that makes money from advertising. We have a modified experience for viewers using ad blockers

Wikia is not accessible if you've made further modifications. Remove the custom ad blocker rule(s) and the page will load as expected.