(Read here )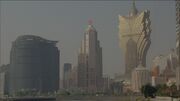 The main reason for Macau's booming prosperity is gambling. After the termination of the previous monopoly system on concessions for gambling licenses in 2002, Macau is now four times bigger than Las Vegas and makes more than five times its gambling profits. Direct taxes from gaming are expected to account for more than 80% of the city's total revenue this year. The gaming revenue is growing at an annual rate of around 11.5%, boosted by the influx of mainland Chinese over the Lunar New Year.
The attitude towards mainland Chinese is generally positive as they have been largely responsible for fuelling its growth. There are, however, some negative aspects. Minimum restrictions on the purchase of properties have led to increasing numbers of rich mainlanders buying luxurious flats in order to become Macau residents but without any intentions of living there. This has driven up housing prices in Macau. The gap between rich and poor has widened, leading to bitterness of those at the bottom of the heap. While Macau's tourists are responsible for high gambling revenue, they also lead to logistic problems in the small city with around 580,000 inhabitants. Last year, 28 million people visited Macau, more than 60% of which were from the mainland.
Ad blocker interference detected!
Wikia is a free-to-use site that makes money from advertising. We have a modified experience for viewers using ad blockers

Wikia is not accessible if you've made further modifications. Remove the custom ad blocker rule(s) and the page will load as expected.