Definition: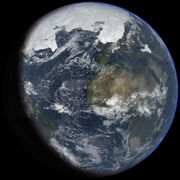 A period of long-term reduction in the temperature of Earth's surface and atmosphere, resulting in the presence or expansion of continental and polar ice sheets and alpine glaciers.
Ice age implies the presence of extensive ice sheets in the northern and southern hemispheres.[1] By this definition, we are in an interglacial period—the Holocene—of the ice age that began 2.6 million years ago at the start of the Pleistocene epoch, because the Greenland, Arctic, and Antarctic ice sheets still exist.
Ad blocker interference detected!
Wikia is a free-to-use site that makes money from advertising. We have a modified experience for viewers using ad blockers

Wikia is not accessible if you've made further modifications. Remove the custom ad blocker rule(s) and the page will load as expected.