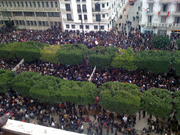 Long-term causes of the rebellion, which forced Ben-Ali out
of the country in January 2011 are, according to Wikipedia, "high unemployment, food inflation, corruption,[155] lack of freedom of speech and other forms of political freedom,[156] and poor living conditions".
Bad situation in Tunis also has to do with Tunis remaining a virtual colony of France. For example: on January 11, 2011, "Michèle Alliot-Marie, Minister of Foreign Affairs, is speaking officially at the National Assembly, stating that France was ready to "offer technical support" and " the know how of French police to the Tunisian police" .
Ad blocker interference detected!
Wikia is a free-to-use site that makes money from advertising. We have a modified experience for viewers using ad blockers

Wikia is not accessible if you've made further modifications. Remove the custom ad blocker rule(s) and the page will load as expected.