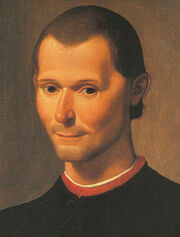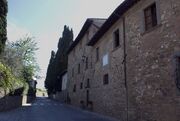 1469-1527
From a letter of Machiavelli:
When evening comes, I go back home, and go to my study. On the threshold, I take off my work clothes, covered in mud and filth, and I put on the clothes an ambassador would wear. Decently dressed, I enter the ancient courts of rulers who have long since died. There, I am warmly welcomed, and I feed on the only food I find nourishing and was born to savor. I am not ashamed to talk to them and ask them to explain their actions and they, out of kindness, answer me. Four hours go by without my feeling any anxiety. I forget every worry. I am no longer afraid of poverty or frightened of death. I live entirely through them.[12]
Ad blocker interference detected!
Wikia is a free-to-use site that makes money from advertising. We have a modified experience for viewers using ad blockers

Wikia is not accessible if you've made further modifications. Remove the custom ad blocker rule(s) and the page will load as expected.