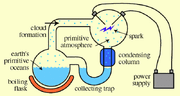 The experiment in 1952 tested Alexander Oparin's and J. B. S. Haldane's hypothesis that conditions on the primitive Earth favoured chemical reactions that synthesized more complex organic compounds from simpler inorganic precursors.
Ad blocker interference detected!
Wikia is a free-to-use site that makes money from advertising. We have a modified experience for viewers using ad blockers

Wikia is not accessible if you've made further modifications. Remove the custom ad blocker rule(s) and the page will load as expected.