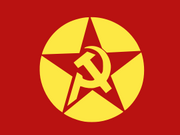 Wikipedia
 :
a Turkish Marxist–Leninist party. It was founded in 1978 as Revolutionary Left (Turkish: Devrimci Sol or Dev Sol),[1] and was renamed in 1994 after factional infighting.
Responsible for a bomb at the U.S. embassy in Turkey in 2013.
The group " holds an anti-U.S., anti-NATO position.  It considers that the Turkish government is under the control of Western imperialism and seeks to destroy this control by violent and democratic means".
The group was founded by Dursun Karatas.
Since the late 1980s, the group has targeted primarily current and retired Turkish security and military officials.
To protest American imperialism during the Gulf War, the DHKP-C assassinated two U.S. military personnel, wounded an Air Force officer and bombed more than 20 U.S. and NATO military, commercial and cultural facilities.
It is significant that the only American killed by terrorists during the First Gulf War was a victim of Dev Sol. U.S. Insurance Executive John Gandy was murdered in his Istanbul office in February 1991 by a well-trained Dev Sol hit team that gained access to the office building by wearing Turkish National Police (TNP) uniforms.
Although Dev Sol was under active investigation by the American, British, French, Austrian and Danish intelligence and security services, it posed a significant challenge for counter-terrorist agents because it was one of the few terrorist organizations (at that time) to employ professional operational and counterintelligence tradecraft. It used sophisticated surveillance and counter-surveillance techniques, it employed multi-layer assassination squads with surveillance, primary and secondary shooters, and it successfully exfiltrated its operatives back and forth between Western Europe and Turkey as needed. It skillfully employed professionally forged documents and disguise...
The organization is listed among the 12 active terrorist organizations in Turkey as of 2007 according to the Counter-Terrorism and Operations Department of Directorate General for Security (Turkish police).
It appears that the organization doesn't have a viable strategy of armed fighting. They sacrifice people without a prospect for victory. It's like terrorism in Russia in XIX century...
The usual scenario is a small band of revolutionaries are surrounded in a house by police, and finally killed by the attack in overwhelming numbers and with better weapons and organization. And this scenario is repeated again and again...
Senseless deaths. 
Additional information:
1) A video presentation by a U.S. student
2) An interview with Dursun Karatas conducted by West German radicals, in 1980's
3) "Legend After Legend", a history of armed resistance by DHKP-C
Ad blocker interference detected!
Wikia is a free-to-use site that makes money from advertising. We have a modified experience for viewers using ad blockers

Wikia is not accessible if you've made further modifications. Remove the custom ad blocker rule(s) and the page will load as expected.