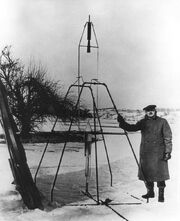 1882-1945
A rocket scientist.
"When German rocket experts were brought to America after the war and were questioned about rocketry, they stared in amazement and asked why American officials did not inquire of Goddard, from whom they had learned virtually all they knew".
"Every vision is a joke until the first man accomplishes it; once realized, it becomes commonplace."[29][30] (His response to a reporter's question following criticism in The New York Times, 1920)
Ad blocker interference detected!
Wikia is a free-to-use site that makes money from advertising. We have a modified experience for viewers using ad blockers

Wikia is not accessible if you've made further modifications. Remove the custom ad blocker rule(s) and the page will load as expected.