1885-1953
He is the author of "The Monument to the Third International", which was envisaged as a design to house the offices of the Communist International, 1919-1943. Original description is
here
.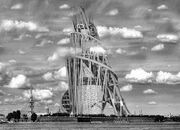 I believe that Frank Lloyd Wright borrowed the design for Guggenheim's Museum from Tatlin's tower, which was envisaged as grand.
He is one of the best examples where Architecture goes back to its origins, which are art and technology . 
Ad blocker interference detected!
Wikia is a free-to-use site that makes money from advertising. We have a modified experience for viewers using ad blockers

Wikia is not accessible if you've made further modifications. Remove the custom ad blocker rule(s) and the page will load as expected.