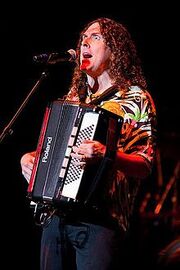 b. 1959
Song "Amish Paradise" is mocking both the Amish, and the song "Gangsta paradise", produced 1999
"With the decline of music television and the onset of social media, Weird Al used YouTube and other video sites to publish his videos; this strategy proved integral helping to boost sales of his later albums".
Ad blocker interference detected!
Wikia is a free-to-use site that makes money from advertising. We have a modified experience for viewers using ad blockers

Wikia is not accessible if you've made further modifications. Remove the custom ad blocker rule(s) and the page will load as expected.