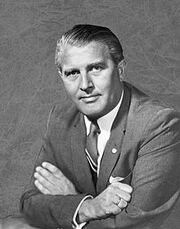 1912-1977
He was one of the leading figures in the development of rocket technology in Nazi Germany, where he was a member of the Nazi Party and the SS.
Following World War II, he was secretly moved to the United States, along with about 1,500 other scientists, engineers, and technicians, as part of Operation Paperclip, where he developed the rockets that launched the United States' first space satellite Explorer 1, and the Apollo program manned lunar landings.
Insisted that men should go to the stars to survive as species.
Ad blocker interference detected!
Wikia is a free-to-use site that makes money from advertising. We have a modified experience for viewers using ad blockers

Wikia is not accessible if you've made further modifications. Remove the custom ad blocker rule(s) and the page will load as expected.